Hussmann Announces Launch of Roadshow Featuring Food Retailing Innovations
August 26, 2020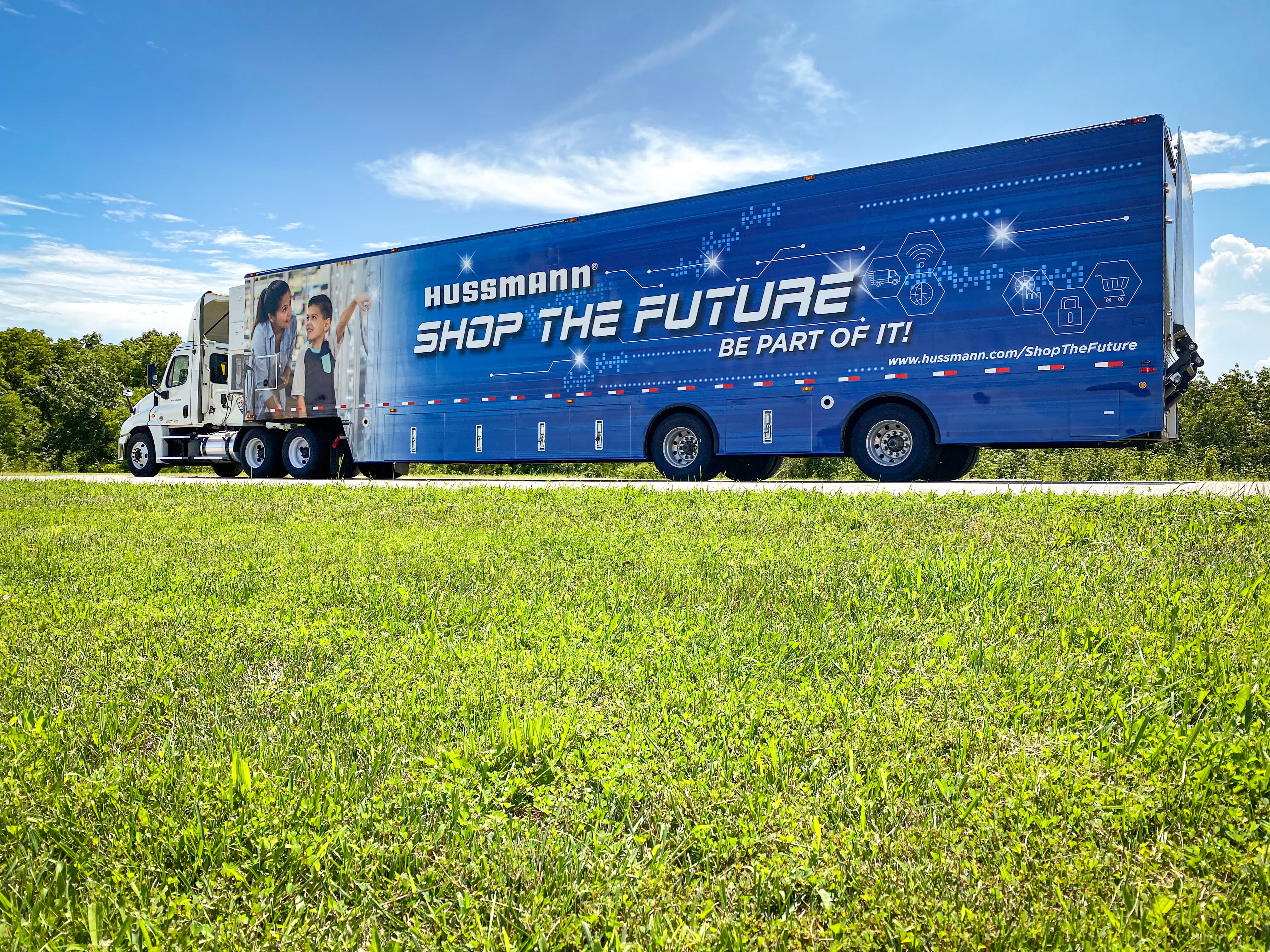 BRIDGETON, MO (USA), August 26, 2020 – Hussmann Corporation, a Panasonic company, today launched a multi-destination roadshow, traveling to more than 40 locations throughout the U.S. to showcase new and future-proof food retailing solutions. The Hussmann Shop the Future Mobile Experience offers retailers an interactive demonstration on innovative solutions for today and tomorrow all within a custom 53-foot-long, 700-square-foot trailer.
"The food retailing industry is always evolving – and we have seen the pace of change only accelerate this year," said Hussmann CEO Tim Figge. "With many industry events and expos canceled or moving online, Hussmann is bringing solutions for changing dynamics right to retailers."
Since its founding in 1906, Hussmann has been focused on helping retailers solve their toughest problems with future-thinking solutions. The Shop the Future Mobile Experience carries this spirit forward, serving as a catalyst to discuss customer-focused solutions for e-commerce, technology, natural refrigerants, mobility, flexibility and merchandising.
Highlights
The soon-to-be-released Insight Reach-In maximizes merchandising ability while bringing a cohesive look and feel to the entire store. Experience the difference Insight Reach-In can make in the high-profit margin frozen food department.
Increase confidence in Online Grocery strategies with order fulfillment solutions including Electronic Shelf Labels (ESLs) to help with picking to merchandisers and refrigeration systems for staging areas.
The Smart Exchange Locker helps retailers get orders in shoppers' hands when they want and where they want while giving retailers piece of mind with Hussmann's commitment to food safety and refrigeration performance.
Future-proof with Natural Refrigerants. Hussmann is a leader in eco-friendly solutions including microDS, a micro distributed system that is water-cooled and uses R-290 (Propane), and the Purity system, which is a multiple compressor system that uses R-744 (CO2) exclusively.
Custom Solutions for retailers' unique needs. Whether e-commerce or in-store with custom designs and flexible-use merchandisers, Hussmann has solutions for supermarkets and convenience stores alike. Proactively manage refrigeration equipment with StoreConnect, a software-as-a-service offering that leverages "Internet of Things" technology to connect equipment to cloud environments, strategically analyze data, and provide automated actionable insights to improve the service experience in real time.
Starting in St. Louis, MO, the Shop the Future Mobile Experience will be set up on-site at scheduled locations throughout the remainder of the year.
About Hussmann Corporation
Hussmann Corporation, a wholly owned subsidiary of Panasonic, promises to continuously provide the most customer-focused solutions in the food retailing industry. For more than 100 years we have been the innovation and technology leader delivering the broadest and most comprehensive solutions to our market. Core capabilities include merchandising/shopper engagement, refrigeration, asset optimization, and supply chain management that address the critical needs of food retailers to increase sales, reduce costs, and increase shopper loyalty. We collaborate with customers across a variety of food retail segments as we work towards fulfilling the Hussmann Promise to deliver better businesses, better partners and a better world. For more information about Hussmann, please visit www.hussmann.com.