Protocol HE (High Efficiency)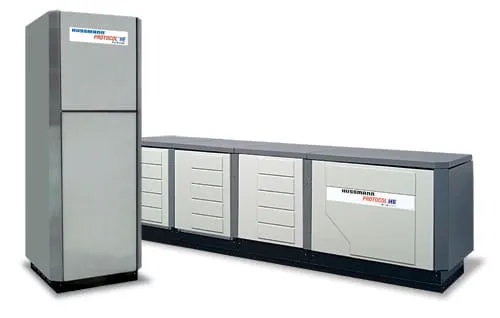 Selecting any of the buttons will update the larger main image.
Product Details
A Proven Supermarket Refrigeration System for Reducing Refrigerant Charge and Installation, Construction & Operating Cost 
Reduces refrigerant charge, normally by 60-80%.
Uses approximately 50-75% less refrigerant piping.
Requires approximately 50-75% fewer braze joints.
Lessens likelihood of refrigerant leaks.
Uses HFC refrigerants. No CFC or HCFC refrigerants needed.
Eliminates or decreases the need for EPRs.
Eliminates the need for a machine room and associated costs.
Lowers installation costs.
Provides back-up protection and load matching with multiplexed compressors.
Off-time, modular, electric or gas defrost.
Air or water cooled.
Energy cost savings over most traditional back room systems.
StoreConnect Factory Direct Solutions Available
(Click icon below for more details)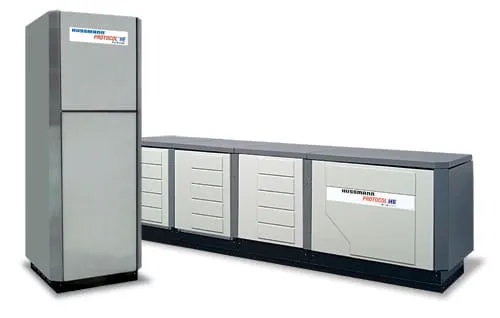 Selecting any of the buttons will update the larger main image.
Installation and Operation Manuals
Learn more about regulations and how our product solutions address these needs!
New store installations with refrigerated systems for California beginning 1/1/2022 must not exceed 50 lbs of charge and use a refrigerant below 2,200 GWP. Systems greater than 50 lbs charge require refrigerants below 150 GWP. Existing store compliance for CA requires a reduced weighted average GWP of refrigerants used to less than 1,400 GWP for the fleet by 2030 or a 55% reduction of overall GHGP (charge not relevant).
Protocol HE (High Efficiency)