Bridgeton Smart Exchange Locker

Saving Time for #MomentsThatMatter
You're invited to participate in the Bridgeton Smart Exchange Locker program, a unique work perk for you and your family as part of Hussmann – and for a limited time, it's free to try!
We can all understand what it's like to juggle a full schedule, with work, family time, errands, social schedules, among other competing priorities. The Bridgeton Smart Exchange Locker is one way to conveniently manage your grocery shopping list, saving you time for #MomentsThatMatter.

Simply place an order, pick it up before leaving the office, and enjoy extra time in your day!
Food Retailers Included
You can shop the following food retailers through the Bridgeton Smart Locker program today: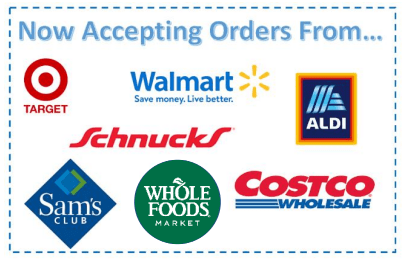 Aldi
Costco
Sam's Club
Schnucks
Target
Whole Foods
Walmart
The eGrocery Team continues to explore local retailers to include and will notify participants when new retailers are added.
Get Started!
All Bridgeton Smart Locker orders must be placed through the Dumpling app.
You can see a preview of the app, here.
The quick, two-step signup process includes:
Downloading the
Dumpling App
(under "Find Shopper", search 63044, and select "Delivery Kings")
At the same time, register for the
Smart Exchange Locker Program
Once you submit your registration, you'll receive an email once you've been approved and then you can begin placing orders.
Additionally, upon joining the program, you'll be added to the Bridgeton Locker Team in MS Teams so you can stay updated on communication about the program and ordering best practices. If you have any questions, you can email
[email protected]
Additional Questions & Answers
Q: What is the daily deadline for orders?
A:
For same-day delivery, you must submit your order by 11 a.m. CST for a 3 p.m. or later pickup time. You can also schedule orders in advance; you have the option to submit an order today but postpone the shopping and delivery until later in the week, when you know you'll be in the office for pick up.
Q: How will I know if my items are not available?
A:
Tamara, our dedicated Deliver Kings shopper, will contact you via the app or text inquiring about replacements if items are out of stock.
Q: Are there any fees for using the service?
A:
For a limited time, Hussmann is covering all delivery fees for employees – simply make sure you write "Hussmann" in the Comment box when submitting your order. You're encouraged to tip our Dumpling shopper, Tamara, during the checkout process.
Q: What is appropriate to order?
A:
Employees can order groceries in frozen, ambient, and medium temperatures. Items are only limited to what can fit inside the locker, which is large enough to hold a 24 pack of water bottles. Employees are encouraged to order groceries, but other household items, like paper products and toiletries, are also available on the Dumpling app. Items like tires, trampolines, toys, etc. are discouraged.

Q: How will I know when my order is ready?
A:
When your order has been delivered, you'll receive two text messages:
One confirming delivery, from the Dumpling shopper
One providing you with a QR Code and instructions for opening the locker
Both text messages will provide all the information you need to easily retrieve your order from the Bridgeton Smart Exchange Locker.
Q: How does this support eGrocery?
A:
Your engagement and experience with the Bridgeton Smart Exchange Locker provides valuable insight toward selling and communicating the Smart Locker as a product to our customers. This program is not only a benefit for you, but it's also another way Hussmann is researching the potential uses of this product to deliver the Promise for our customers.
Q: How can I return/exchange items? What happens if an item isn't accurate?
A:
With each order, you'll receive the physical receipt for your items.
If the order was accurate, but you've changed your mind and would like to return it, then you'll make the return yourself using your receipt.
If the order wasn't accurate, you can message Tamara, our Hussmann Dumpling shopper, and she will work with you directly to make it right.
Q: Are there features in the app to help make ordering easy?
A:
Yes! The Dumpling app has features to make ordering easy, including:
Once you've shopped at a food retailer like Costco, when you start your next Costco order, the app will ask if you'd like to start by editing your last order.
If you'd like to start fresh, but have a few staples to add, you can use the "Buy Again" feature.
You can use the "Save Items" feature to save your favorite items for current or future orders.
Once you are ready to place your order, you can select a preferred delivery date. This gives you the flexibility to submit the order today but postpone the shopping and delivery until later in the week, when you know you'll be in the office to retrieve it.
Additionally, upon joining the program, you'll be added to the Bridgeton Locker Team in MS Teams so you can stay updated on communication about the program and ordering best practices.
Q: What happens if I forget to pick up my order?
A:
To ensure there is room for new orders coming in, it's important to pick up your orders the day it's delivered, before you leave the office.
Along with the notifications you'll receive via text message, you'll also notice reminder posters at each exit to ensure you don't forget. We encourage you to use Personal Accountability to set additional reminders for yourself if necessary (add a reminder alert to your phone or calendar invite to Outlook, as examples).
If you forget, please make sure to grab your order in the morning and transition it to the break room refrigerators.
Q: Why is Bridgeton Smart Exchange Locker just now launching to all corporate employees?
A:
Throughout the summer, approximately 50 employees joined a pilot program to understand how this program would work in terms of usage, locker maximum capacity, overall user experience, and also best practices. Now with three months of testing, we're ready to include more users!
Q: Can my partner/spouse place an order on my behalf?
A:
Yes! They will simply need to follow the instructions outlined above to participate.
Q: Who is our shopper?
A:
Hussmann has asked Dumpling's Delivery Kings to exclusively shop for Hussmann. Our shopper Tamara is passionate about eGrocery, she is engaged with customers who place orders, responsive to questions, learns order preferences, suggests items you may like, and overall a great partner for this program.
Testimonials from the Pilot Team
ON APP AND INVENTORY

"Although several items I ordered were not available in store, I was satisfied with the replacements that dumpling offered."

"Everything I searched for was on the app."

"Target displayed a wide variety of items, including everything that I had wanted to order and then some."



ON DUMPLING CUSTOMER SERVICE
"Awesome, competent, and timely."

"Very pleasant and helpful, offered suggestions."

"Great communication."

"The shopper updated me at every part of the process and asked for input for substitutions after verifying the items weren't at multiple locations."

"They succeeded in delivering the items at the requested time."

"Very communicative and sent pictures of items that were available!"



ON SMART EXCHANGE LOCKER
"Locating the lockers was no problem at all."

"Never tried this before, however I love it now!"

"Very convenient and saves me so much time!! My ice cream was frozen when i picked up so that was a win!"

"My frozen food was still frozen."