A legacy of food retail innovation
We are a world leader in merchandising and refrigeration solutions, helping grocery stores and supermarkets attract shoppers, reduce shrink and enhance food safety.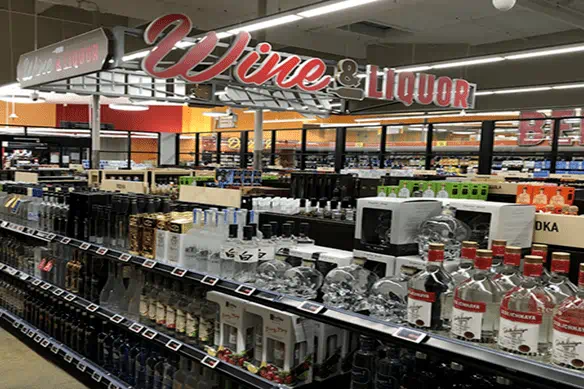 Upgrade your customer experience and workflow
As the world of retail shifts dramatically, companies are looking for technological solutions that reduce labor hours, improve the customer experience, and have a small ROI threshold. Electronic Shelf Labels can improve the in-store and online buying experience for customers while reducing labor costs by 90 percent in some areas.
Collaborating to win the battle for baskets
Bringing families and friends together around the dinner table is one of life's joys. But as our lives have gotten busier, the task of putting a great meal on the table has become more daunting. Hussmann believes that innovative technology can help close the gap between our desire to gather around a dinner table over a great meal and our time-pressed lives. Now part of Panasonic, the global technology solution leader, Hussmann is uniquely positioned to help food shoppers close this gap through our supermarket services.
Toward this end, we're developing innovative supermarket solutions that radically streamline and personalize the shopping experience. These innovations include:
Our pickup locker and IoT "clicks meets bricks" solution, where eCommerce purchases can be collected at retail locations in secure refrigerated, freezer and room-temperature lockers.
IoT and Intelligent shelf label solutions, which provide shoppers with more product information and enable retailers to automate and increase accuracy of their stocking.
Data collection and analytics, which build on intelligent shelf label data, allowing retailers to better manage their product mix and price, shopper engagement, and in-store marketing.
We partner with supermarkets and grocery stores to develop innovative solutions that attract more shoppers, enhance their product selection and optimize the retail environment.
For more than a century, we have been a leader in providing display merchandisers, refrigeration systems, installation and services to food retailers around the world. Many of our innovations, such as the first patented display case, the first frozen food case and the first multi-deck dairy case, have helped define the modern supermarket industry. And we're constantly evolving.
We enable excellence in food retailing with our world-class merchandising and refrigeration products, store planning and retail optimization services, as well as food quality and energy savings consulting. Our trusted supermarket service organization has coast-to-coast service facilities and 1,200+ certified technicians , expertly providing project management, application engineering, installation, maintenance and the full gamut of related support services.
At the forefront of food safety
Hussmann is committed to meeting the highest standards in food preservation and refrigeration performance. We test our equipment to more stringent standards than most of our competitors to help you maintain the maximum freshness and appeal of the foods you sell while reducing shrink and waste.
Since our company's beginning, food safety has been one of our core values – and throughout our 100 plus years of service, we've turned this value into a core competency. This has enabled us to assist each of our customers in growing their brand and expanding their customer base by providing safe, quality food.
Hussmann's food integrity team provides individually tailored food safety and quality consulting services to the grocery industry. Our goal? To improve overall food integrity while maintaining regulatory compliance, protecting brand identity and supporting risk mitigation.
We work with retailers, manufacturers, growers, trade associations and government entities around the world in tackling some of the industry's most critical situations. Through our relationships, knowledge and experience, we strive to enact policy aimed at raising food safety standards across our industry.
Shaping the future of the food business
Online grocery shopping and evolving consumer habits bring opportunities that food retailers are hungry to cash in on. We're developing forward-thinking supermarket solutions that help grocery stores streamline and personalize the shopping experience. Whether your new strategies include everyday low pricing, simple meal solutions, quick in-and-out convenience or specialty offerings, we can work with you to create merchandising solutions tailored to win over your most important customer segments.
Count on Hussmann to be your trusted partner at every stage of the e-grocery food chain, from in-store merchandising and storing to picking and staging. Our next-gen innovations include mobile merchandisers to store fresh meal kits, temperature-controlled lockers for curbside perishables pickup, and electronic shelf labels to optimize the picking process.
No matter what the future holds for food retail, we'll be there delivering supermarket services and integrated solutions to enable your success.
Display Cases

We serve the needs of food retailers with the most extensive selection of state-of-art display cases. We are known for our durability, efficiency and unrivaled ability to create custom solutions.


VIEW DETAILS

. Display Cases

Refrigeration Systems

When you choose Hussmann, you get decades of expertise in commercial refrigeration and the biggest selection of high-performance solutions specifically engineered for the food retail industry.

View Details

. Refrigeration Systems

Glass Doors

Our selection of doors fits a wide variety of case types, from reach-ins and walk-ins to island merchandisers, all designed to display your foods beautifully.

View Details

. Glass Doors