The Hussmann Promise
We collaborate with customers across a variety of food retail segments as we work towards fulfilling a promise for better businesses, better partners and a better world.
A Promise That Matters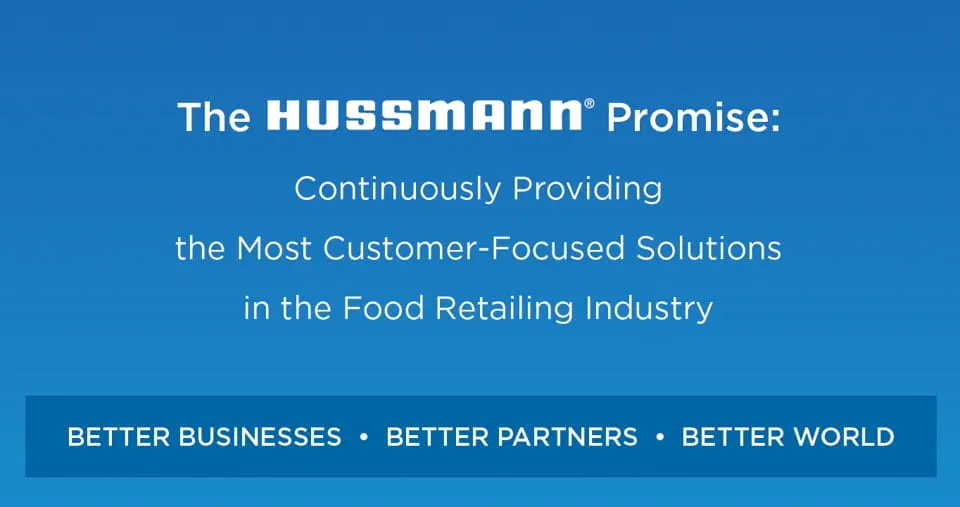 The Hussmann Promise is a significant part of the Hussmann culture. Our promise is a reminder of how we've chosen to compete in the marketplace, the value we currently deliver, and the future value we continuously aspire to provide. Let's take a closer look at some of the key words in the Hussmann Promise.
Continuously
: We must continuously get better and continuously move forward as an organization. We must continuously be customer focused and provide great customer focused solutions to our retailers and our customers.
Customer Focused
: Customer focus is at the core of what Hussmann does.
Solutions Provider
: We do more than provide a refrigeration system or install and maintain equipment. We provide our customers with solutions to make their businesses better. That can be how we provide a total store package or how we reduce energy consumption of the store. It's about the solutions and providing them to our customers.
Let's move on to Better Businesses - Better Partners - Better World.
Better Businesses
: We make our customers' better. This could be through providing the cases, making service calls, getting a part delivered on time, providing a better quality merchandiser, or a better quality meat case that holds the temperature longer meaning less spoilage.
Better Partners
: For us to be a customer focused solutions provider, we must be able to understand and be a partner with our customers. We are asking ourselves how do we create partnerships with them to truly drive the business forward and create better businesses for them.
Better World
: Here we tie directly into Panasonic's vision. Panasonic's vision is a better life - better world. This also ties into Hussmann's stewardship philosophy and how we have a responsibility to the environment and to the world to leave this place better than how we found it.
Behaviors for Success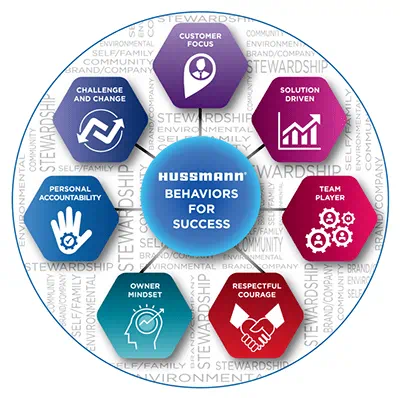 While achieving our results is important, how we achieve our results is even more important. These behaviors are critical to define our culture and how we get work done here at Hussmann to help deliver on our Core Capabilities and our overall Hussmann Promise. The seven Hussmann Behaviors for Success are Customer Focus, Respectful Courage, Personal Accountability, Team Player, Owner Mindset, Solution Driven, and Challenge and Change.
Stewardship
Stewardship is the heart behind our culture and Behaviors for Success. We are committed to creating a better world through four areas of stewardship.

Environmental Sustainability: We protect the environment through waste reduction, recycling and energy saving efforts.

Self/Family Safety: Hussmann understands that safety does not happen by accident and is committed to improve safety inside and outside of work. Every Hussmann Employee is required to attend a behavioral based safety training called SafeStart to help prevent accident inside and outside of work.

Community: We have a responsibility to our local communities. Our organization currently donates to United Way and participates in charity events highlighted in each community.

Company: We are stewards of our brand. Each of us has a responsibility to be an ambassador of the Hussmann and Panasonic brands in the way we interact with each other, our customers and our community.