Hussmann and Takeoff Technologies Announce Strategic Alliance to Accelerate Innovation in Grocery E-Commerce
March 31, 2021
WALTHAM, MA and BRIDGETON, MO, March 31, 2021 – Takeoff Technologies and Hussmann Corporation, a Panasonic company, have launched a strategic alliance aimed to improve food retailer flexibility to grow with changing shopper needs. Under the alliance, Takeoff will become Hussmann's strategic ally for automated grocery fulfillment solutions in North America. Hussmann will provide Takeoff refrigeration solutions and expertise to develop food retailer-focused solutions.
"It's exciting to see two of the industry's leading companies collaborating to bring game-changing concepts and technologies into the food retailing marketplace," said Tim Figge, CEO of Hussmann.
"Hussmann is an established leader in refrigeration. They are true experts in their field," said José V. Aguerrevere, Co-Founder and CEO of Takeoff. "Any eGrocery solution relies on safe product temperature control to ensure food integrity of refrigerated and frozen items. This alliance represents an incredible opportunity to strengthen our solution."
Takeoff coined the term micro-fulfillment in 2016 and is the current leader in the micro-fulfillment space. Micro-Fulfillment Centers (MFCs) are miniature, automated warehouses that utilize robots and software to fulfill online orders. MFCs are small enough to fit inside the back of existing grocery stores or operate as stand-alone facilities. MFCs combine proximity to the end-shopper with the automation capabilities of a large warehouse – two major competitive advantages for grocery retailers looking to go online.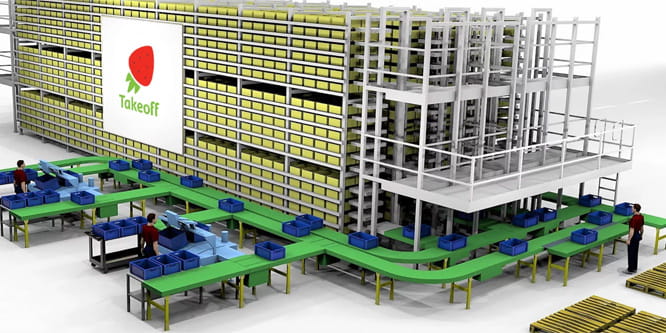 "Working with innovative companies such as Takeoff, has always been part of how Hussmann delivers the most customer-focused solutions in the food retailing industry," said Figge. "Takeoff's micro-fulfillment solutions are emerging as a key component in the quickly evolving eGrocery space. We look at this alliance as a way for retailers to leverage the market leading technologies of two great companies; ultimately driving improved e-commerce business models for retailers and shoppers."
Hussmann and Takeoff previously collaborated on several projects, including Smart Exchange, a refrigerated locker technology, that Takeoff utilizes to store orders for pickup. This technology is already available to Takeoff and its strategic retail partners.
"We are incredibly proud of the work we have done with Hussmann to date, and I am confident that their innovative temperature solutions will add value to our micro-fulfillment ecosystem. We are very excited to pass that value along to our retail clients," added Max Pedró, Co-Founder and President of Takeoff.
# # #
About Takeoff Technologies:
Takeoff Technologies is an eGrocery solution that empowers retailers to attain profitable online growth by leveraging automation at a hyperlocal scale. Orders are placed online through established retailers (whether using their existing eCommerce platform or Takeoff's customized UI solution) and Takeoff's automated technology fulfills the order using robots in Micro Fulfilment Centers. The company was co-founded by José V. Aguerrevere and Max Pedró in 2016, and recently closed its Series C financing led by Forrestal Capital, taking the total capital raised to $86M. The company's robotics technology is proven and ready to deploy at scale thanks to Takeoff's exclusivity partnership with Knapp, a leading global provider of automated warehouse solutions. By leveraging automated Micro Fulfillment Centers, Takeoff's innovative model operates at a much lower cost-to-serve than other eCommerce platforms, solving for both the cost of assembling the order and cost of the last mile. This results in savings for both shoppers and retail partners. For more information, visit https://www.takeoff.com/.
About Hussmann Corporation:
Hussmann Corporation, a wholly owned subsidiary of Panasonic, promises to continuously provide the most customer-focused solutions in the food retailing industry. For more than 100 years we have been the innovation and technology leader delivering the broadest and most comprehensive solutions to our market. Core capabilities include merchandising/shopper engagement, refrigeration, asset optimization, and supply chain management that address the critical needs of food retailers to increase sales, reduce costs, and increase shopper loyalty. We collaborate with customers across a variety of food retail segments as we work towards fulfilling the Hussmann Promise to deliver better businesses, better partners and a better world. For more information about Hussmann, please visit www.hussmann.com.
# # #