Hussmann Wins ENERGY STAR® Emerging Technology Award
September 12, 2023

Merchandiser Uses Low-GWP Refrigerant and Variable Speed Compressor to Maximize Energy Efficiency
BRIDGETON, MO (USA), August 27, 2023 – Hussmann, a Panasonic company, is proud to announce it has been selected as a recipient of the ENERGY STAR® Emerging Technology Award.

Each year, the U.S. Environmental Protection Agency (EPA) reviews and selects products that have the potential to significantly reduce greenhouse gas emissions. The EPA recognized Hussmann Vertical Reach-in, Low-Temperature merchandisers VRL1B1A, VRL2B1A, and VRL3B1A as recipients of the 2022 ENERGY STAR Emerging Technology Award.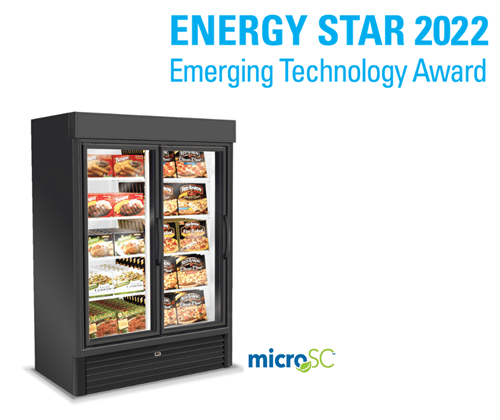 These cases are part of Hussmann's microSC product portfolio that consists of self-contained merchandisers utilizing R-290 (propane), a natural, non-toxic refrigerant that is environmentally safe, energy efficient and reduces the amount of refrigerant emissions into the air.
In addition, this product uses energy-saving, variable-speed compressor technology along with 120V power, hot gas defrost and environmentally friendly insulation foam.
This ENERGY STAR-certified product decreases energy consumption by 29% and increases temperature stability by 35% compared to previous models. Minimizing variations in temperature can result in reducing food waste and keep perishables fresher, longer. Learn more about the VRL1B1A and other energy-saving models.
About Hussmann
For more than 100 years, Hussmann has been a leader in providing innovative products, services and refrigeration systems for grocers and convenience stores. Hussmann, a subsidiary of Panasonic, promises to continuously provide the most customer-focused solutions in the food retailing industry. From display cases for supermarkets to entire refrigeration systems, Hussmann continues to drive innovation and technology in food retailing. Customers look to Hussmann as a strategic trusted partner to navigate the complex and ever-changing regulatory requirements with smarter, energy efficient, low-GWP refrigeration solutions—reducing their energy consumption and carbon emissions.