Hussmann Road Show Highlights Innovative Food Retailing Solutions
July 26, 2021
BRIDGETON, MO (USA), July 26, 2021 – Hussmann Corporation, a Panasonic company, today hits the road with its Shop the Future Mobile Experience. The multi-destination showroom on wheels includes a collaborative presentation of Hussmann's innovative products and services, including updates and additions to last year's display. The trailer also features new technology designed to enhance the virtual experience. The custom 53-foot-long, 700-square-foot trailer will be traveling throughout North America for the next 14 weeks. Shop the Future has scheduled stops at close to 40 locations, primarily visiting customers Hussmann was not able to connect with last year.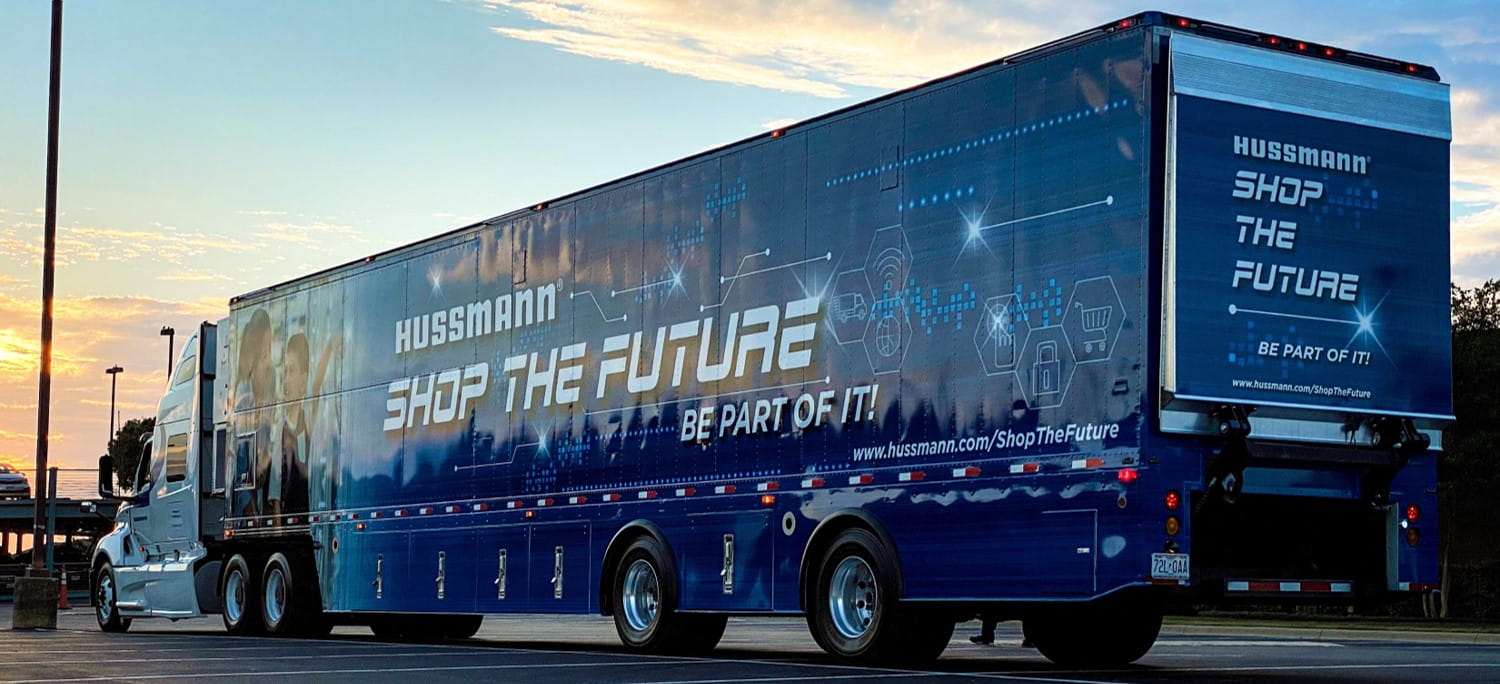 "Grocery retailing has entered a new era, as the recent pandemic fueled major changes seemingly overnight," said Hussmann CEO Tim Figge. "Hussmann's customer-focus mindset and better together attitude motivates us to bring our latest food retailing solutions directly to our customers."
For the past 115 years, Hussmann has focused on evolving, paving the way, and raising the industry standard to provide retailers with best-in-class products and services. The Shop the Future Mobile Experience carries that same ambition, illustrating innovative solutions to grow e-commerce programs, address labor constraints, increase in-store buying, and tackle an ever-changing regulatory environment.
Online grocery is rapidly changing the landscape for food at home. Hussmann eGrocery provides solutions to optimize your operations and increase your customer satisfaction. Hussmann eGrocery includes solutions for in-store picking and automated fulfillment.
The Smart Exchange Locker increases shopper convenience, creating an optimal eGrocery strategy. Shoppers receive mobile grocery orders when and where they want, while Hussmann's expertise in refrigeration, food quality standards, and regulatory compliance gives retailers peace of mind.
Transform current operating procedures while reducing overall expenses with digital technologies offered by Aperion. Products and services such as Electronic Shelf Labels, out of stock detection devices and digital displays utilize real-time omni-channel capabilities to connect with customers, increase loyalty, and drive sales.
StoreConnect focuses on refrigeration systems so retailers can focus on retail sales. Leveraging the "Internet of Things" technology, StoreConnect provides service savings through predictive and proactive repairs on high-cost assets.
The soon-to-be-released Insight Reach-In creates maximum product visibility and merchandising appeal. Beautifully display refrigerated and frozen items while reducing energy and maximizing product packout potential.
From grab & go merchandisers to merchandisers that fit perfectly into changing store footprint plans, Hussmann Specialty has solutions for changing dynamics.
Sustainable Refrigeration Solutions include MicroDS, a micro distributed system that uses Propane R-290, and the Purity System which is a multi-compressor system that uses CO2. Each of these solutions is naturally sourced and environmentally safe, protecting against ever-changing refrigerant regulations.
Departing from St. Louis, the Shop the Future Mobile Experience will be set up at scheduled, on-site locations throughout the remainder of the year.
About Hussmann Corporation
Hussmann Corporation, a wholly owned subsidiary of Panasonic, promises to continuously provide the most customer-focused solutions in the food retailing industry. For more than 100 years we have been the innovation and technology leader delivering the broadest and most comprehensive solutions to our market. Core capabilities include merchandising/shopper engagement, refrigeration, asset optimization, supply chain management that address the critical needs of food retailers to increase sales, reduce costs, and increase shopper loyalty. We collaborate with customers across a variety of food retail segments as we work towards fulfilling the Hussmann Promise to deliver better businesses, better partners, and a better world. For more information about Hussmann, please visit www.hussmann.com.