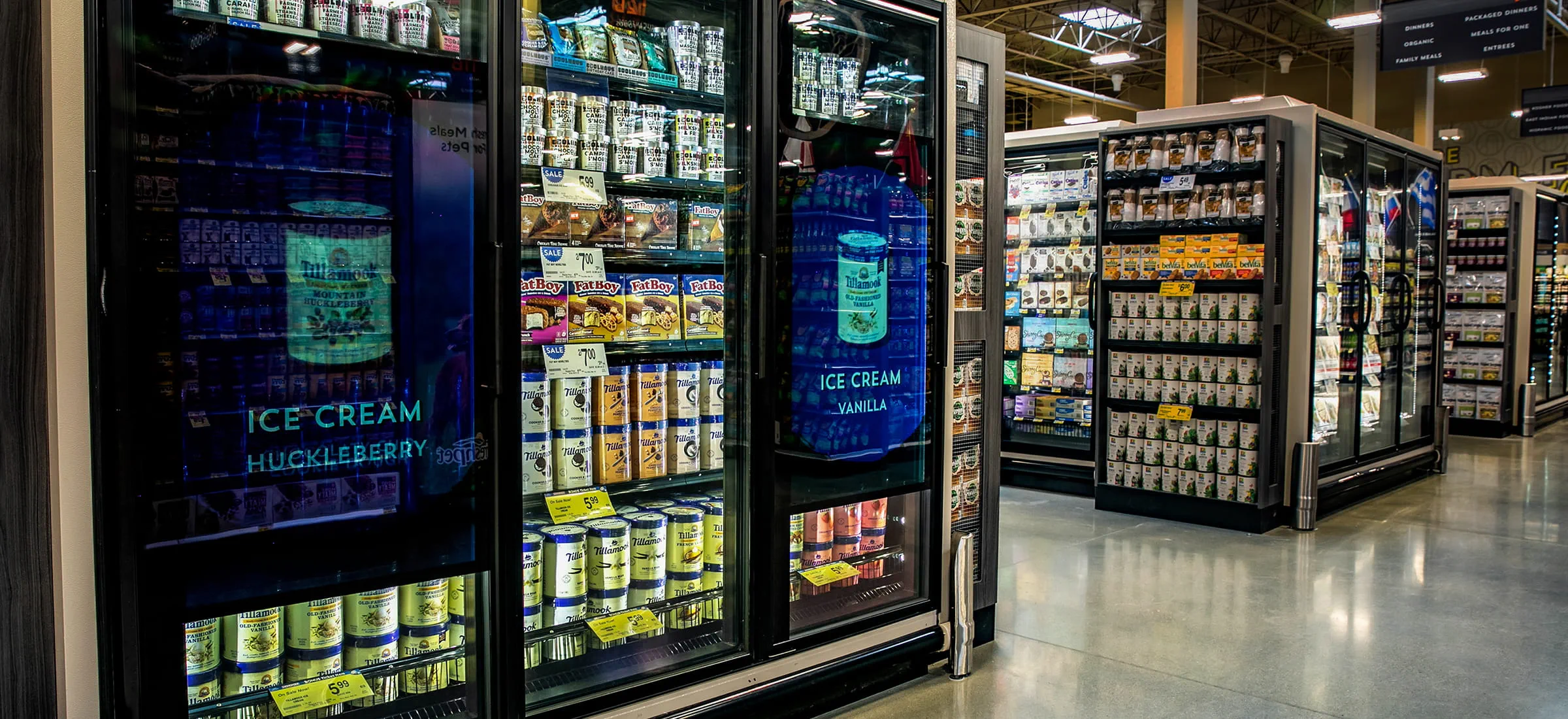 Customer-Focused Solutions
No one provides more innovative products, services and solutions than we do for preserving and merchandising fresh foods.
Whatever you need, we can do that
We don't just make and customize products to suit your specific needs now – we also develop solutions to solve challenges you haven't even thought about. That's the Hussmann difference.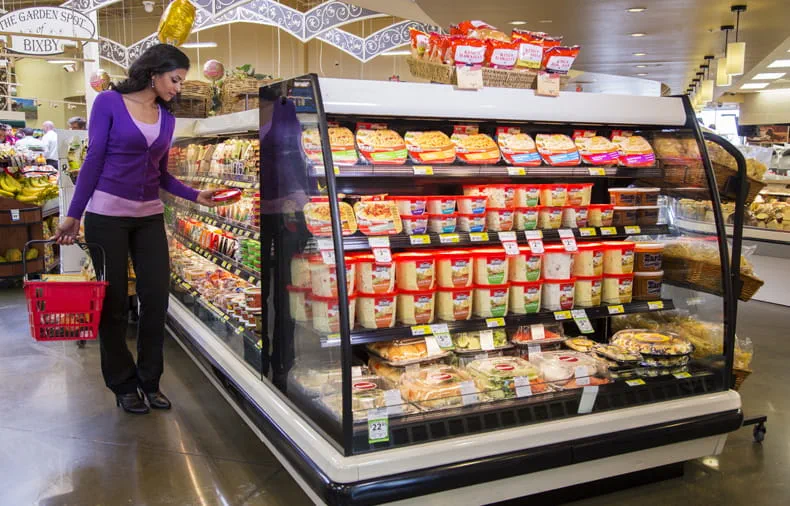 Hussmann display cases, merchandisers and walk-in coolers are engineered with advanced technologies to better preserve the quality and appeal of your foods. Whether you need it hot, cold, fresh or frozen, we've got you covered.
Our extensive selection of industry-leading products includes superior meat, dairy, produce and frozen food cases for your core perishable departments as well as innovative specialty and self-contained cases for deli, hot foods, bakery, cross-merchandising and more.
Choose from a wide range of sizes, styles and models, from narrow footprint to bulk merchandisers. We will gladly customize a solution to match your vision and footprint.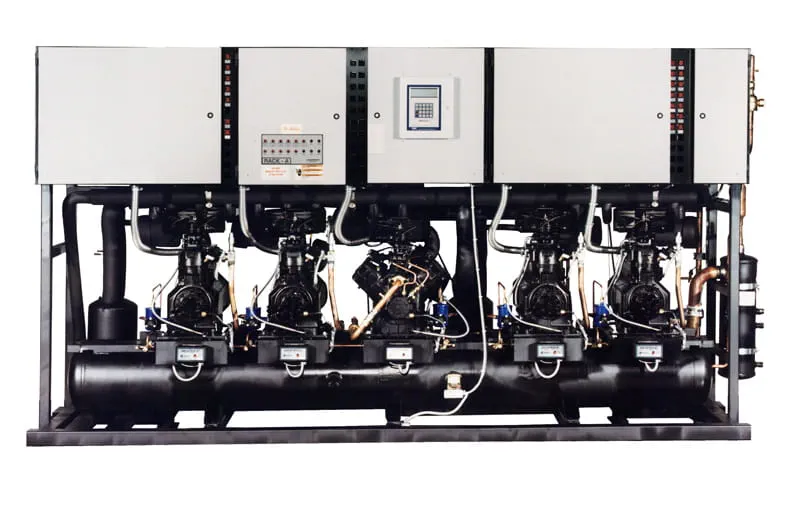 The Hussmann team designs innovative refrigeration systems to serve all your food retail needs, with solutions that reduce HFC charge and leak potential, lower energy consumption and provide more cost-effective operations. No other commercial refrigeration manufacturer can match our breadth of products or depth of flexibility. Simply put, we go farther to give you the highest quality and best value.
Our full line of advanced solutions includes parallel compressor systems, Protocol distributed low charge systems, Transcritical CO₂ Rack Systems, Protochill distributed secondary systems, TerraChill CO₂ systems, medium temperature central secondary systems, mechanical centers, electrical distribution centers and condensing units.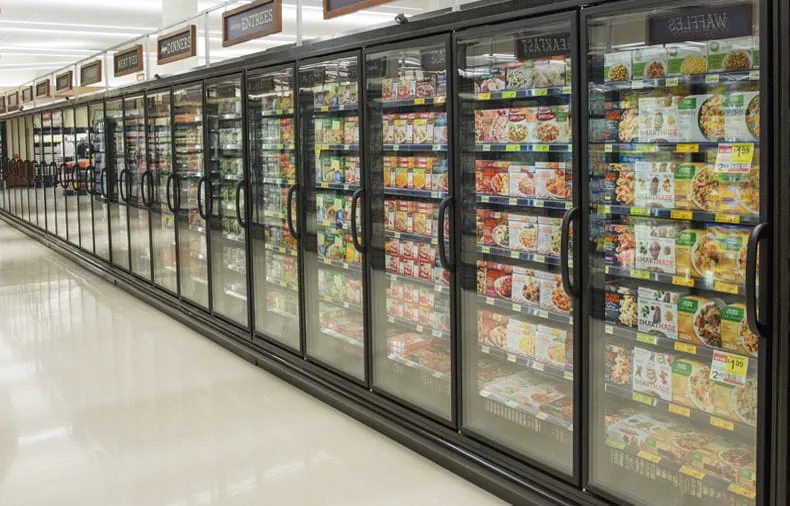 Whether you're in need of new cases or upgrading what you've got, we have glass doors and sliding glass lids to perfectly fit your needs and help your customers see your foods beautifully.
Hussmann is the innovative leader in glass doors for reach-ins. Food retailers rely on our solutions for higher quality, lower energy costs, exceptional product visibility and versatility in all ambient conditions.
Our Innovator series has created a new benchmark in all-climate door efficiency. Engineered for outstanding performance at almost all indoor temperature and humidity levels, from normal to extreme, Innovator doors are 43% more efficient than previous models and provide 13% total case energy savings. They're also designed for maximum merchandising impact.
Upgrading existing equipment to EcoVision Glass Doors offers food retailers a great opportunity to cut operating costs, reducing refrigeration energy use by up to 82% compared to traditional open multi-deck cases. EcoVision's advanced, no-heat frame and dual pane glass pack keep energy use low by design, and switching from fluorescent to EcoShine LED lighting can provide even more savings.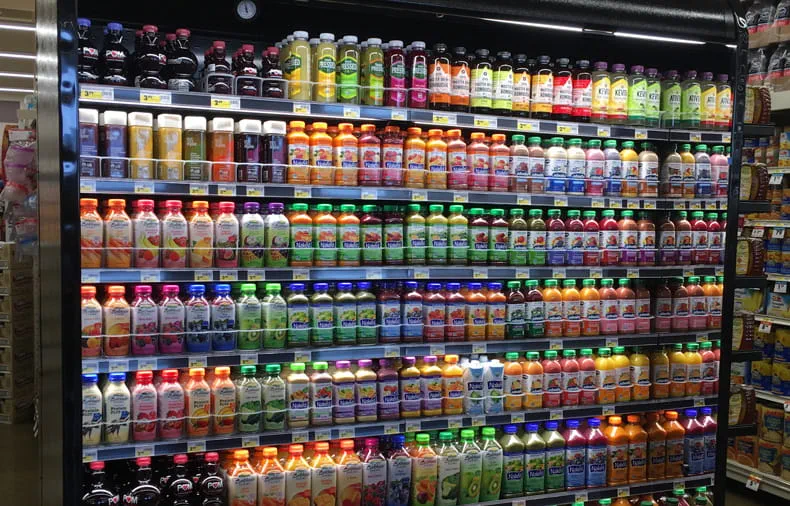 When you want to make your foods standout, the right lighting is everything. What brings out the freshness of produce – rich LED light – is different than what best highlights dairy, which demands neutral-white light.
Our merchandising experts can help you achieve the perfect color, warmth and appeal for each food type, whether packaged or open display. We have food retail lighting solutions for every store format and every case, and a simple upgrade can make a noticeable difference.
Products like our EcoShine LED lights enable better visibility to see and select products, enabling an enhanced shopper experience. LED lighting also emits less heat into the case than fluorescent lights, resulting in lower product temperatures which help maintain the fresh, appealing look of perishable foods.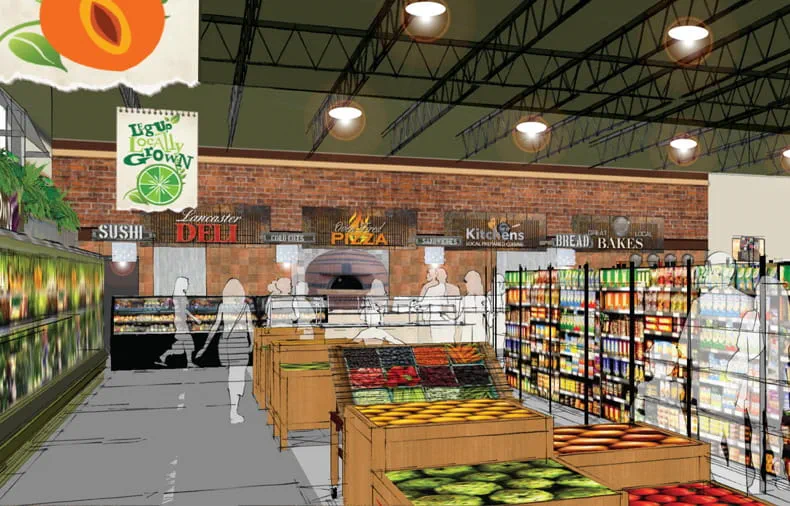 The fight for foot traffic is being won by innovative retailers who keep their offerings fresh and deliver on convenience. From floral to frozen, bagel walls to wine racks, Hussmann specialty has a solution to display your vision beautifully.
Our custom displays and mobile merchandisers can help you delight customers and elevate the retail experience. Specialty cases like our Entyce and Isla lines feature upscale styling and distinctive designs to make your finest foods irresistible to shoppers. Add custom counters and other materials to create an appealing look that will help boost your department's food sales.
We provide customized solutions matched to your evolving food strategies, including packaged grab and go foods, made-to-order meals, food prep and pastries. Innovative thinking that addresses industry trends includes products like our mobile meal kit merchandisers, which can be used in store to attract shoppers to sales and specialty items or as a mobile storage merchandiser for fresh meal kits to cater to eCommerce demands.
Case Controls

Hussmann's CoreLink Case Controller allows a single electronic controller and a single valve driver module to manage up to three electronic expansion valves (EEVs) in a single case.

View Details

. Case Controls

Display Cases

We serve the needs of food retailers with the most extensive selection of state-of-art display cases. We are known for our durability, efficiency and unrivaled ability to create custom solutions.


VIEW DETAILS

. Display Cases

Glass Doors

Our selection of doors fits a wide variety of case types, from reach-ins and walk-ins to island merchandisers, all designed to display your foods beautifully.

View Details

. Glass Doors
LED Lighting

Create exceptional displays throughout every department with bright, vibrant colors that attract shoppers.

View Details

. LED Lighting

Refrigeration Systems

When you choose Hussmann, you get decades of expertise in commercial refrigeration and the biggest selection of high-performance solutions specifically engineered for the food retail industry.

View Details

. Refrigeration Systems
Choosing the Right Commercial Refrigeration

Whether you want to reduce HFC charge and leak potential, lower energy consumption or find a more cost-effective solution, Hussmann has a commercial refrigeration system for your application.

View Details

. Choosing the Right Commercial Refrigeration